Click the blog tag above to view recent works.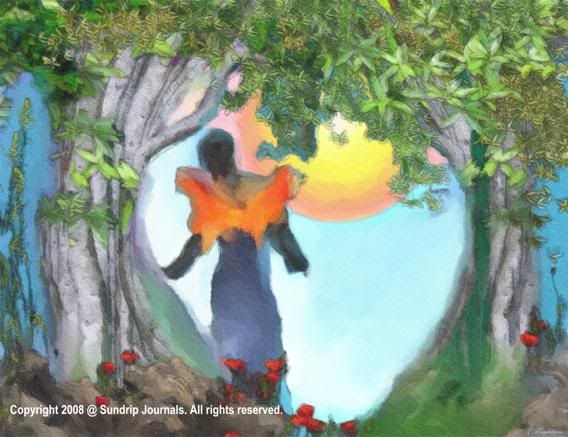 Take the breath of the morning sun and run. Take the fire of the morning sun and live. Dance with it. Laugh with it. Accept the hope that the new sun brings and never forget the blessings that drip ever so lightly.
The fairy in this painting stands slightly to one side but her goal is to stand in the middle where she will most benefit from the warmth of the sun. The painting above represents the purpose of Sundrip – Art for Life. Each piece is one step closer to the middle where every colour is clearer and every hope is brighter.
GALLERIES
Where can I buy Sundrip prints?
You may purchase prints, postcards and other items from my Redbubble shop. If there's a print you want but it does not appear in the Redbubble shop please contact me and I'll put it in there. At this time I only offer prints from my Redbubble shop.
Original artwork can be purchased directly from this website Sundrip.com by using PayPal or from my Etsy shop.  The Etsy shop no longer offers prints.
How much do dolls cost?
Dolls range from 10 inches to 32 inches and cost between $15.00 and $65.00.
Teddy bears range in size from 8 inches to 18 inches and cost between $10.00 and $25.00.
After making a purchase how long will it take to receive it?
PLEASE ALLOW 5 (five) BUSINESS DAYS TO PROCESS YOUR ORDER.
Winter time may slow the mailing process. Please allow extra time for possible snow storms and other hazardous conditions that may slow down the mail.
Here is a little more information about originals and dolls.

If you see a painting on Sundrip.com that is not in the galleries but you'd like to check it's availability please contact me.
All dolls are hand made and hand stitched unless otherwise specified. I use as many recycled materials as possible and ship them in clean recycled boxes. I don't use boxes that were used to transport food but other boxes if clean and in good shape may be used for shipping. SUNDRIP is as green as possible so I do recycle shipping materials.
Refunds and Exchanges
Your original works and dolls will come secured in a protective sleeve that is resistant to ill tempered postal workers. The face of the art will be inward for extra protection. The way I package your print will assure it's safe, dog ear free arrival. Dolls and bears may be shipped in recycled materials but will always arrive clean and well packaged.
Be assured, you are purchasing a solid creation. Because of the amount of care put into quality all sales are final. If you'd like to have shipping insurance please contact me.
Why buy Sundrip Art?



Each stroke was placed on the digital canvas, stretched canvas or board with passion and love for the craft.   All dolls are created stitch by stitch and will not be duplicated. They're one of a kind creations that only you will have in your home. The time and attention to detail can be seen as your dolls or art work is displayed in your home hopefully providing joy for years to come.
TAGS: painting, art , artwork, art gallery