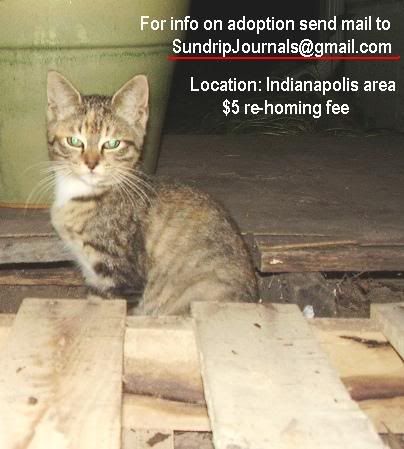 An 8 week old kitten with the most beautiful markings has made my porch her temporary home. I'll post her image on Craigslist as well as other sites to find her a real home. To insure she doesn't end up in a lab I'll request a $5 re-homing fee. She's a gray tabby with a white bib and white socks as well as tortoiseshell marked ears. It's almost as if she couldn't decide what markings she wanted so she just took them all. I've given her a temporary name: Emma.
No Longer A Stray
One day she'll be more than just a stray,
She'll hang the moon,
Swing from the rainbow
And play marbles with the stars and planets.
One day she'll pounce and leap,
With a belly full of sweetness she'll slumber and sleep
No boxes or concrete beneath her but in a bed of her own in a place she calls home.
Poem Title: No Longer A Stray
Art Title: A Kitten's Rainbow Ascent
By: F. Magdalene
Wednesday, July 25, 2007-5:01AM EST