I have a tendency to apologize for crying in front of people. I have a tendency to hide my face so they can't see it. I'm of the mindset that if my pain is too strong it'll seep into the other person and I'll be the reason they're upset and hurting.
This is the second time this week I've climbed out of bed in tears. Last night I dreamed I was in a huge house with my roommate. The house looked terrible, very messy, unorganized, hardly any room to walk at all. I told my roommate we needed to clean the place up so he started moving things out into the yard to make room inside. I sent Captain next door to play while Barney and I cleaned the house. I heard Captain shriek, the kind of shriek you know means big time pain. When I looked out he was being attacked by a black panther. The panther then stopped attacking him and laid beside him for a short nap. I tried to get out of the house to go help him but the house kept getting bigger and bigger, more rooms, more false exits, more reasons I couldn't go help my dog while the big cat slept. I ran back up to the window to check on him. The panther was still sleeping. I realized I'd never get out of the house and that I couldn't stand in the window and watch this panther eat my baby. I walked away listening to Captain being torn apart.
This is the thing, I worry about losing Captain because of his health. There are so many tumors now it's not even funny. Everywhere you touch him there's a tumor. Because of how close one tumor was to the surface it ended up getting split open. It is not a pretty site. I keep thinking, if he gets sicker I can't help him. The size of some of the tumors is incredible. I've never seen anything like this. He even has them on his paws. He has them on his spine, on his neck on his ground area which may be one reason he's using the restroom more. I think one is pressing against his bladder cause he's going more than usual the last few days.
When he sleeps he kicks so much so that he's not resting well. The other day he was kicking so hard that the back part of his body was coming up off the floor. It is so hard to watch this boy go down hill but then I think, nah, Captain will be okay. He's been superdog for so long I doubt anything will happen to him. Then I come back to reality and realize I'm going to have to, as best I can, prepare myself for the inevitable. And that is when the tears really start to come.
I have a feeling the panther in the dream was Captain's own body turning on him. The fact that I couldn't get out of the house and the added rooms is my frustration for not being able to do simple things for him. You know, the other day when he kicked in his sleep and hurt his back paw he couldn't get up to use the restroom even. Don't think I didn't pick up all 128 pounds of that boy and take him down three steps to let him use the restroom. And since he couldn't stand up I refused to leave him on the floor by himself so I got down there with him for most of the day. I just didn't want to leave him by himself. When he was stronger, healthier there were times he helped me up off the floor because I couldn't get up (knees, back, what have you). I wasn't going to leave my boy on the floor when he's been there so many times for me. I was just happy to have Morton around to do this. The rest of us feel no pain when Morton does something like this. You let me do it and ….well, I'm not going to be able to do it. I can't pick that boy up nor can I get him down 3 steps then up again by myself. Not gonna happen.
I don't want Captain to see me upset about his condition. He's so in tuned to me that he'll forget all about himself and try to be the super service animal he is at heart. So I go drop tears in the other room and try my best not to let him know I miss him before he's even gone.
These are two of my favorite pictures of Captain. The first one his him wearing his jacket sitting beside a rock outside of my therapist's office. The second is him sitting beside the counter at Subway. We were about to go home and the store was closing. Cap was ending his long day working and the subway shop was ending it's long day. I like the way the light hits him in this one. Somewhere on disk is a subway photo without all the signatures on it. I didn't feel like trying to dig it out to place a better looking one up here.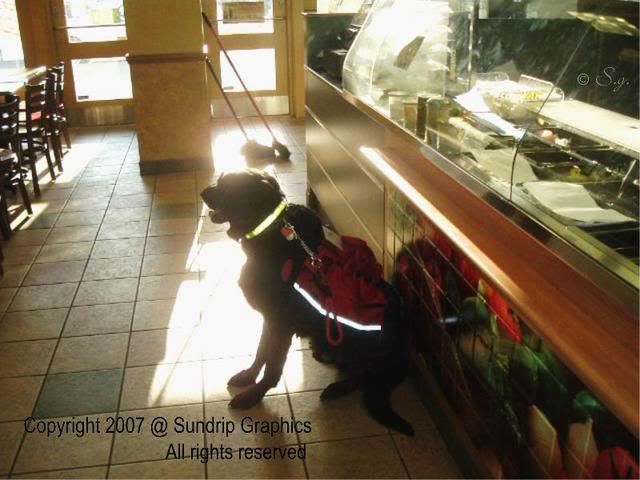 This Strong Panther-Friday, August 08, 2008-1:51PM EST