Anna raced through the front door and up the stairs to her mother's room to tell her all about show and tell the next day at school. Everyone would bring in a pet, their favorite pet and tell a story about it. Anna only had Cheyenne to bring. Since she was the only pet she'd have to do and she'd make her look so wonderful that everyone would want one just like her.
At mother's room Anna burst in the door and exclaimed, "Mama, tomorrow is show and tell. I want to take Cheyenne. Can I? she begged. "Get out of here would you? I'm trying to get myself together for dinner with Roger." Little Anna sighed and slowly backed out of the room. Ever since Roger entered the picture she saw very little of her mother. She'd leave the house, the city, the state, the country without her and spend time on great adventures, without her. All Anna had was a big empty house … and Cheyenne. She didn't much care for her either but if that was all she had she'd play with her. But you let a better option come along and Chey could eat her dust for all she cared. She was just a standby anyways, not much anyone could do with her but tolerate her, Anna thought. But tomorrow when she's put on display everyone will fall in love with Anna for having her.
The evening was spent dreaming of how she'd stand in front of her class with all her schoolmates in awe of her great pet. Her dress would be just so, her shoes just so and her hair better than just so. She'd speak in perfect English and when it was all over she'd curtsy as if she were in front of the Queen of England herself. They'd all see how special she was and fall all over her. Never again would Anna run off to the corner of the playground misunderstood. It wouldn't matter that she's long and skinny, awkward and a little unsightly. After her 'show and tell' performance they'd have to love her. Anna was all ready and knew tomorrow would be a great success. 'Show and tell', it's a day every 4th grader looks forward to when they've got something spectacular to share.
The next morning at school Anna rose and took her place in front of the class with Cheyenne. "I'd like to introduce Chey, our scapegoat. She's 9 years old and lives in the room down the hall from me." The class was silent as they looked upon two little girls in front of the classroom. "What's a scapegoat?" asked a little one. "A scapegoat is someone who takes the blame for everything that goes wrong. Cheyenne is the reason my mother won't ever get married again and the reason I'll grow up without a father." "You mean that's her fault?" asked a young boy from the back row. "Yup, and she's the reason my grandmother doesn't love my mother. It's her fault that my mother works so hard and why she's always so sad."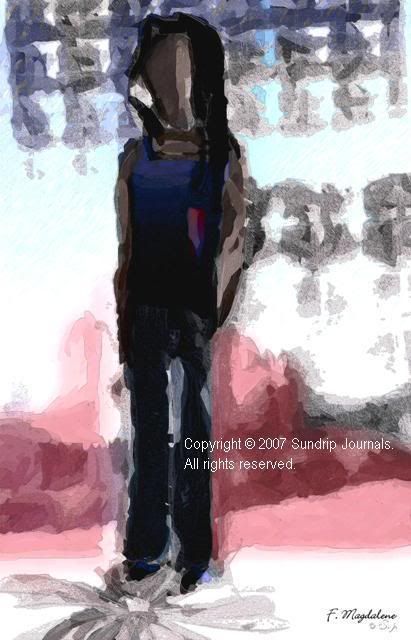 The classroom was silent. They seemed confused at these suggestions. Silent is a nice way of putting it though. They sat stupefied, uncertain of such odd statements. "She's lying; that isn't a goat that's just her little sister." "It is not cried" Anna, "It's our family's scapegoat." She's your sister they chanted, "She's your sister. She's your sister." They all began beating their desks in unison, "She's your sister. Your sister! Your sister!" Anna became so furious at such a preposterous accusation that she began to scream at the top of her lungs. This only encouraged the children to chant and laugh louder all while the teacher sat smirking with amusement. She didn't like Anna much either for she was a peculiar little girl with odd ideas and strange ways of expressing herself. And she was always crying, always, always crying.
Through the ordeal Cheyenne held her head up but said nothing. She seemed to look at them all without actually seeing them. Their voices were far away, their faces void of features. She just stood there perfectly lifeless, but perfect none the less just like her mother molded her to be. This sort of thing came easily. She could exist in the smallest of spaces, take in a tiny bit of air, a tiny bit of sustenance and still manage to live. She prided herself on blocking them out and making them disappear. It was a skill only she knew she possessed and one she was very close to perfecting.
Not only was she good at making herself and others disappear she was good at shouldering blame. 'Show and Tell' was another disaster she'd been given the honor of creating and for which there would be hell to pay. After all she could have protected her sister from ridicule. She could have insisted that she is the scapegoat and everything is her fault. No, she stood quietly and for that there is a substantial price with a lien on her mind until its paid.
Cheyenne had a special place in her mind for all honorary awards commemorating problems she created. These awards were housed in a private room where every receipts for payment in full and for outstanding debts were alphabetized and categorized like a library of sorts housing volumes upon volumes of fault.  No one else ever stepped foot in the large expanse and no voice could seep through the concrete poured walls; not Anna's, mother's or Roger's. She could arrange the books in stacks or on shelves of white. It didn't matter how she organized them as long as she could get to them at a moments notice. It was all up to her, and the only thing she was truly responsible for.
J of A
The discussion for this entry can be found here.
Creative Writing: Show and Tell – Tuesday, May 25, 2010 – 2:53am EST